I am often asked, "As an architect do you do interiors or just the building?"
Most online articles will insist that an architect designs the overall structure of the building, whereas an interior designer selects materials, finishes, colours and furniture — they may even be licensed to take out a non-structural wall during a renovation project. For the writers of these articles, the building "shell" and the individual "rooms" are distinct and separate.
The services that any two architects provide can vary significantly, and most don't provide interior design (or if they do, it's an added cost). At Kariouk Architects, however, I am absolutely dedicated to turn-key work because to my mind, the "building" is only ever the resulting form of the interior space.
For me and my firm, architecture and interior design are two sides of the same coin.
Unique Forms from Unique Needs
Most people have not worked with an architect and would have no way to know the typical scope of work of an architectural project.
But when my clients and I begin our work together we don't start by talking about what shape(s) they want their new home to be.
Instead, we begin with a dialogue about what sorts of interior spaces will be most practical for them in terms of layout, privacy, or the needs of their growing family. At the same time, I talk about the joys that architectural space can bring with the nuanced management of things as simple as daylight and cross breezes (which BTW, unlike material finishes, are free).
Left: Echo House.
Why Typical Homes Need Interior Design
Most people grew up in homes that were not designed specifically for their families. Those homes were designed to be exactly average; to be acceptable to the greatest number of people.
Since "average" is not a concept that anyone finds glamorous, interior designers are often called in to make the home more appealing to the residents. Sadly, interior design is often used to distract buyers from the real problems with the home: it may not have enough natural light, or may not allow parents to supervise small children, or the kitchen may be completely unsuitable for a two-cook family.
Right: Redeveloper Apartment.
Builders are adept at spicing things up with trendy superficial materials and products with slick names; of course, none of those items help to actually improve quality of life for those who live in them. Most of these choices will look outdated and even silly quite soon, which is a financial virtue for the interior design industry — even if those carefully chosen products end up in the landfill in ten years.
What most often happens when I am approached for a new commission is that I am shown a number of images that my clients find appealing. But what they are showing me is usually quite cosmetic.
Part of the value I provide lies in teaching my clients that there is a better way: design a home that makes sense for how they live.
Left: Redeveloper Apartment.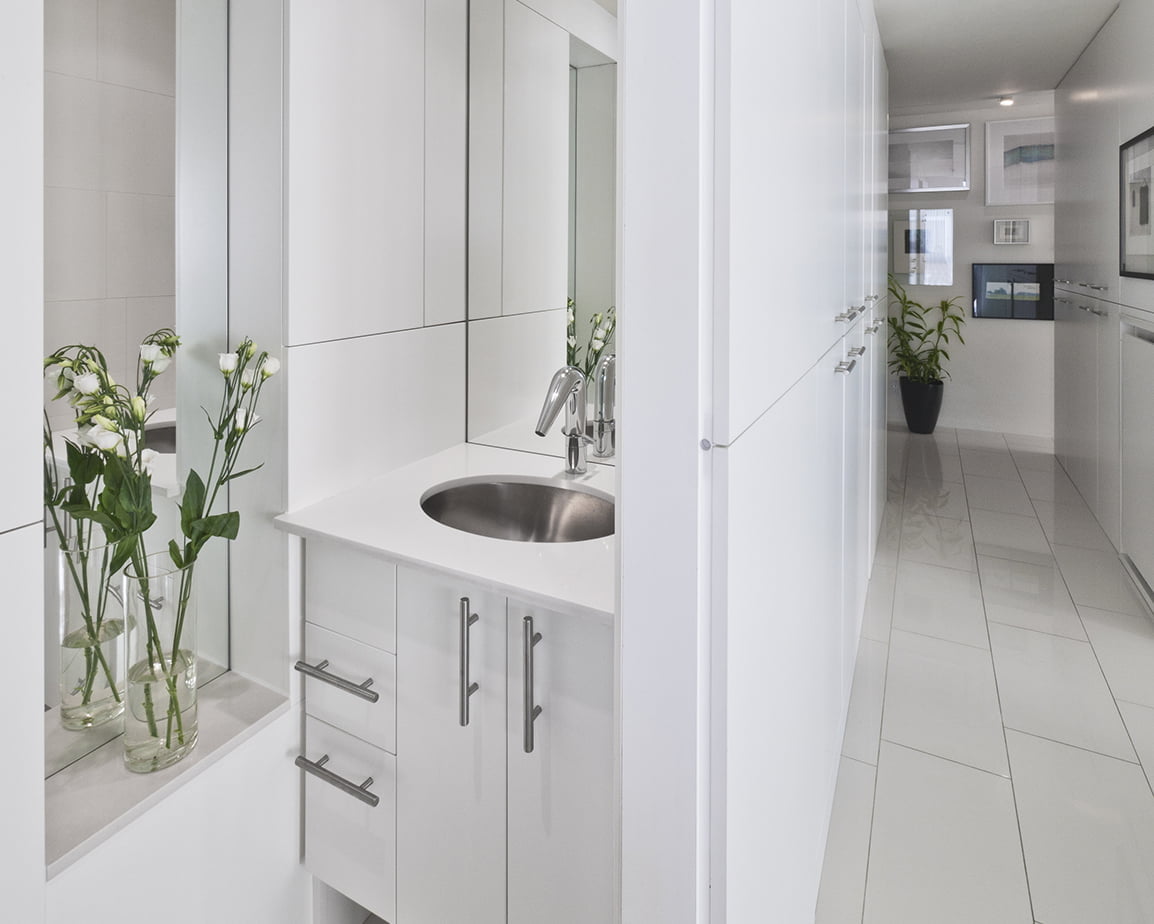 Why Architecture Should Encompass Interior Design
Architecture is the art of the design of space; the plan of a home is akin to a choreography of domestic social relations. How the occupants of a home interact with each other, how they achieve a broad spectrum of privacy, how they find joy in shared activities — all of these elements have everything to do with a particular household's very unique social dynamics.
And, of course these dynamics are themselves always changing just as the occupants themselves age physically and in terms of their own habits, likes, dislikes.
We work hand-in-hand with our clients to design optimal, gorgeous interior space. To design a custom home means no one is bound to preconceived ideas about how rooms and spaces are to be arranged.
Just because one grew up in a home with a certain layout does not mean that a similar layout is worth repeating.We ask our clients in our first dialogues: is the interior layout that you're describing something that is familiar and actually desirable for your current self, or is it just something familiar?
The clients we take on are almost always the ones who, on reflection, say they are in the latter category but are open minded to see things in new ways.
That's the starting point of a truly personalized interior design approach, and as such, what we pursue together is not a copy of something already seen and known, but a real work of architecture.
It may sound like we're saying that interior design doesn't have value. We highly value the role that beautiful, practical surfaces and fixtures can play. If you cruise through our projects section you'll find plenty of examples of how wonderful details add value to a home — as will this blog on dog-friendly design. It's just that these elements can't fix what's wrong with most homes.
In other words, the surfaces become more impactful when they complement effective architecture.
So Yes, We Happily "Do Interiors"
As part of our services to all of our clients, we do in fact assist them in selecting everything that is attached to the home — wall and flooring materials and colors, tiles, kitchen and bathroom, plumbing and electrical devices, and the list goes on. We're also glad to offer our design savvy on moveable items too: sofas, rugs, etc.
It's all a part of our complete turn-key package for a home that lasts a lifetime.
Right: Echo House.