Is a view through a window more interesting than a painting of the same scene on a wall in your home?
Most people would certainly say they prefer view over painting. Why would that be? The painting by the French surrealist artist, René Magritte, titled "The Human Condition" raises this very question.
Magritte seems to be making fun of us for spending time trying to decipher which is which, meaning that we are missing the point: if we consider landscape as a visual trophy it really does not matter.
But if we start to think about the painting as being different from nature in ways that go beyond the visual then the two could not be more dissimilar.
Right: René Magritte's "The Human Condition".
We All Want to Bring the Outdoors In
So, how does this relate to architecture?
When clients bring to me their wish lists for their new homes, especially for projects located outside of urban areas, there is always a request for lots of windows in order to "frame views to the outdoors" and to "bring the outside in".
We are visual creatures so this desire is easy to understand, especially when we think about the tiny percentage of wall surfaces of most houses that have windows (let alone windows that offer a view other than the siding of the neighbor's house). With the arrival of the COVID pandemic, when so many of us started spending more time indoors, this desire has only intensified.
Even the most extensive use of glass is not going to truly bring my clients closer to nature, however. In order to do that, a work of architecture has to function in a much more nuanced manner.
Left: The master bedroom at the Hurteau-Miller cottage is at ground level, allowing direct views  to the lake and allowing in lake breezes on warm summer evenings. It also provides a view of the stars at night. A rich fabric drape immediately surrounding the bed can be drawn for privacy and to block morning light.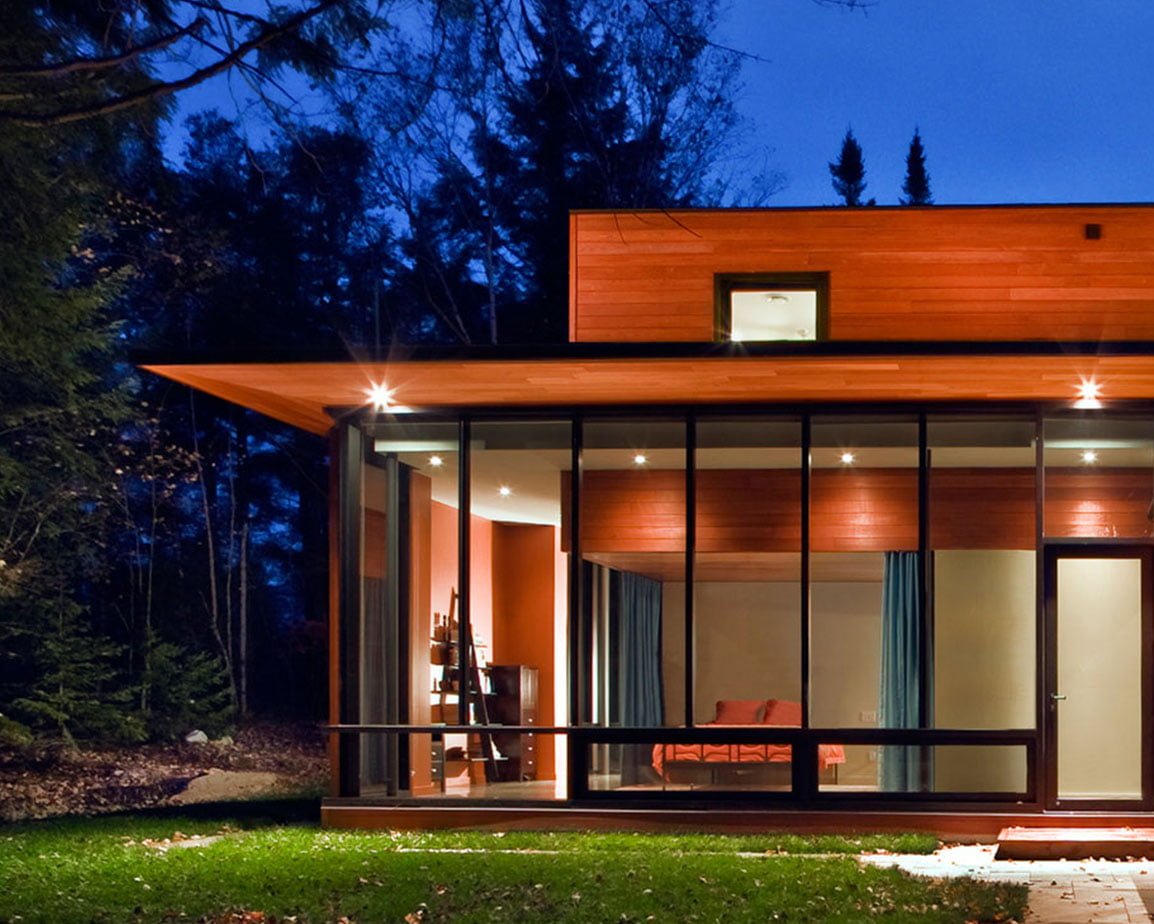 Why Do We Need More Than a View?
Views, in and of themselves, don't create a link to the outdoors. Rather, much more sensuous and spatial connections do.
Plate glass is a cold, machined material that seals out wind, moisture, temperature, and outdoor scents that all change through the course of the day and with the seasons.
A more integrated work of architecture is one that recognizes the differences between a window that maxes out a view (which of course isn't a bad thing) and one that provides other benefits. For example, the purpose of a window in a wall or in the roof could be to bring daylight and solar warmth into a nook to create a magical spot to sit and read in wintertime.
How to Go Beyond the View
Wind and Weather: Shelter and Union
An architecture that is really attuned to its landscape uses its building mass strategically to block strong prevailing winds, but to also create spaces that receive breezes in warm weather.
When parts of a wall are carefully oriented and are designed to be operable — and not just a view — this permits cross breezes for passive cooling.
As another example, a roof overhang could allow homeowners to sit outdoors and enjoy a rainstorm without getting soaked.
Right: The living room at the Hill-Maheux cottage has an equal part of its volume on the inside and outside. Shown here is the exterior, but it is a covered space that is fitted with a retractable insect curtain.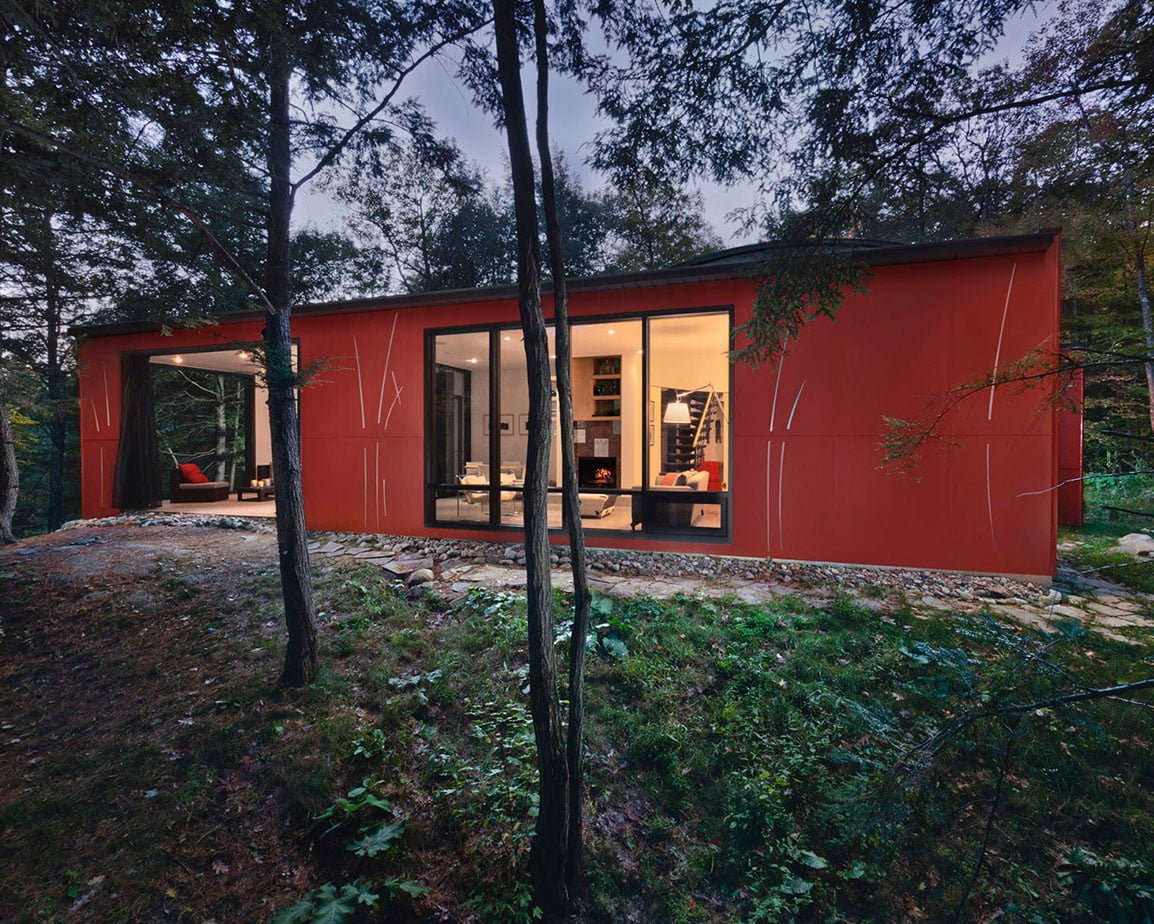 Left: The materials of the floors and walls of the Hill-Maheux cottage are exactly the same inside and outside to make the two halves seem as one space.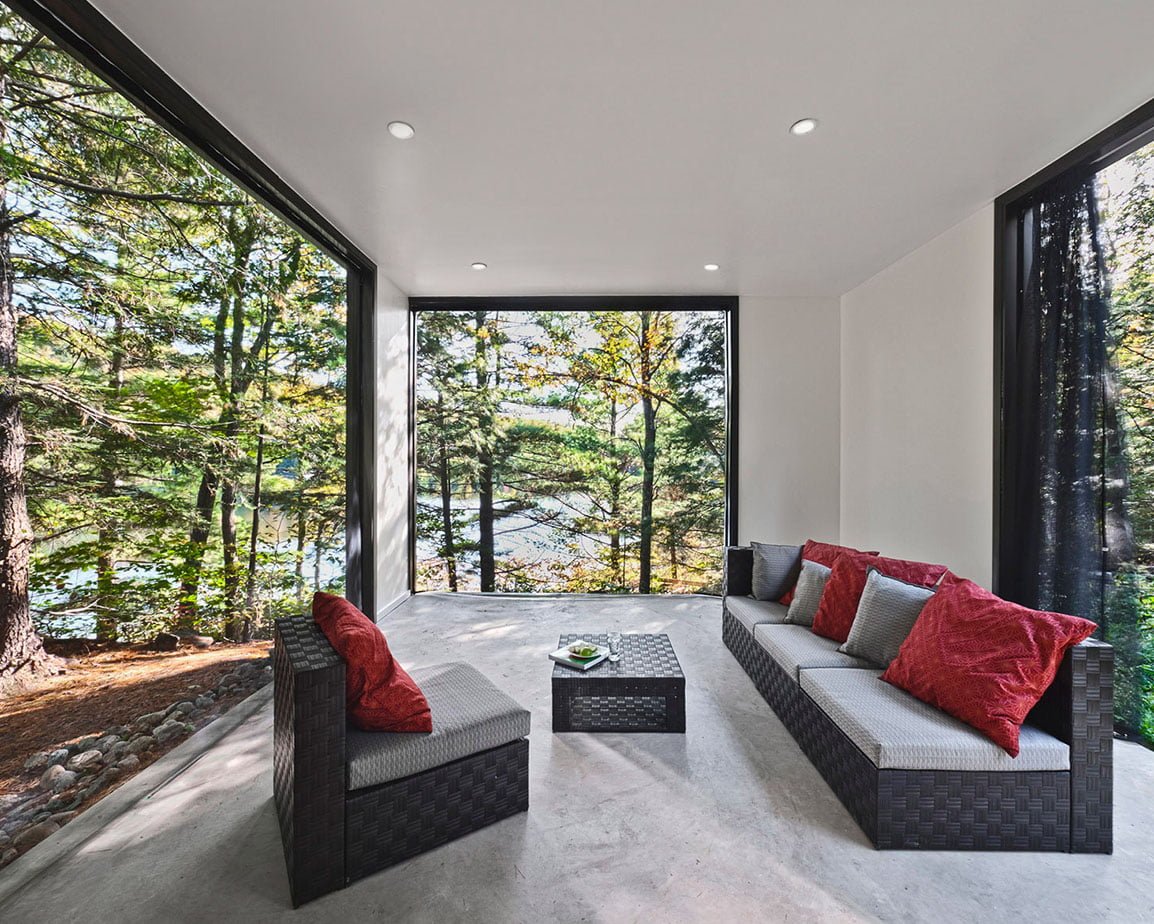 Vegetation
A strategic and poetic design can further expand the interplay between architecture and landscape through the choice of evergreens or deciduous plantings.
Evergreens maintain a constant edge that can serve as a visual barrier for privacy and also as a windbreak. A "wall" of this kind is also very fragrant.
A deciduous "wall", on the other hand, acts more like a curtain that parts with the seasons. When this is planned alongside the physical architecture, a far more rich, sensual, spatial setting is created.
Sound
A well-integrated building is also attuned to the interplay of the sounds in nature. A plate glass window can only deaden sounds.
Orienting the building and windows not only makes strategic use of the wind, but can encourage the tranquil sounds of the wind blowing through trees and reduce the sounds of cars on a nearby road.
Elevation can also play a key role in sound.  Birds (and therefore their songs) dwell in treetops and not at the ground level. A home set conventionally on the ground would have a different soundscape from one raised into the treetops.
Right: By locating all the main living and sleeping areas of our DASH Home on the second floor of a home on a steep site, the home becomes like a tree-house. The family is given privacy and the large garden-facing façade opens to the sounds of tree tops stirring in the breezes as well as all the bird life.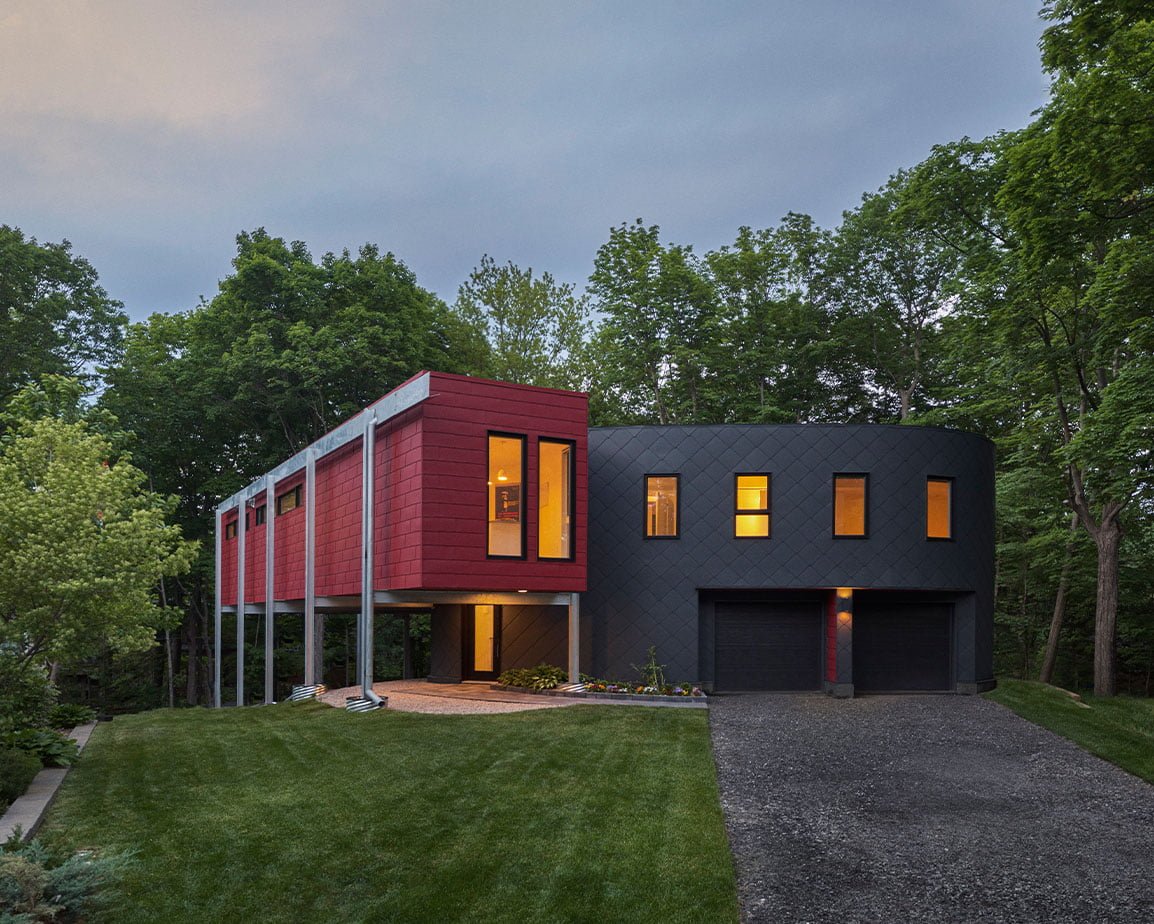 Left: In our Chelsea Hill house, a large soaking tub in the second floor master bedroom is suspended both above the lower level and in the forest's treetops.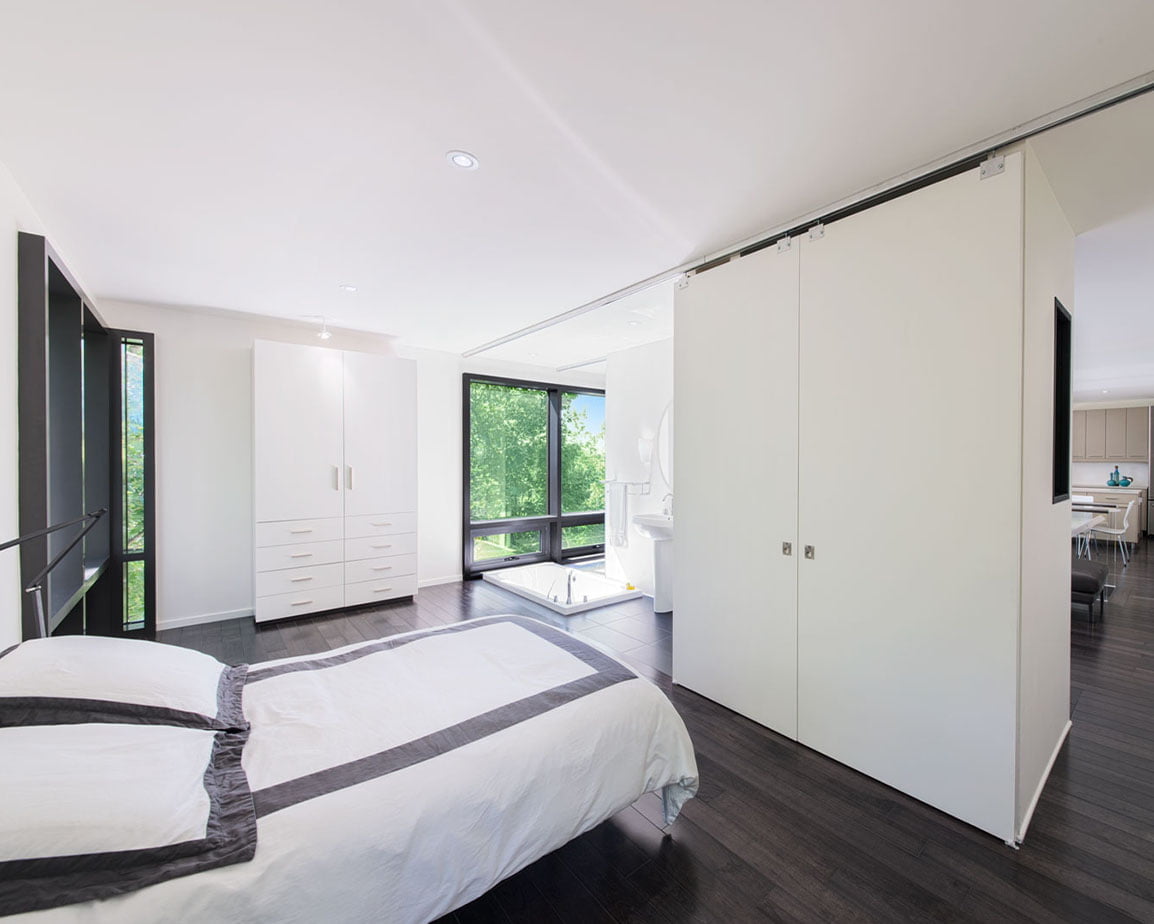 Creating Moments
A famous example of a work of architecture that creates unexpected opportunities to unite its inhabitants with the natural world is Frank Lloyd Wright's masterpiece, Fallingwater. It succeeds by going well beyond the visual.
The name says it all: the heart of that home is not the gorgeous surrounding forest seen through the home's many windows. The heart of the home is a "vocal" stream over which the house is cantilevered. The most sensual moment of that home is a small platform, a stair, that descends from the indoors and goes "nowhere"; simply hovering above the stream.
The forest and other surroundings drop out of view, and in sitting upon this stair you can listen to the moving water and feel the cool mist. The design of this "observation stair" is so simple and yet profoundly beautiful, and even meditative since it's so unexpected.
This architecture/landscape moment plays down the visual and instead joins the visitor to the landscape by creating a spatial moment that amplifies the sensations of touch, smell, and sound.
Right: Frank Lloyd Wright's stair platform at Fallingwater, Bear Run, Pennsylvania.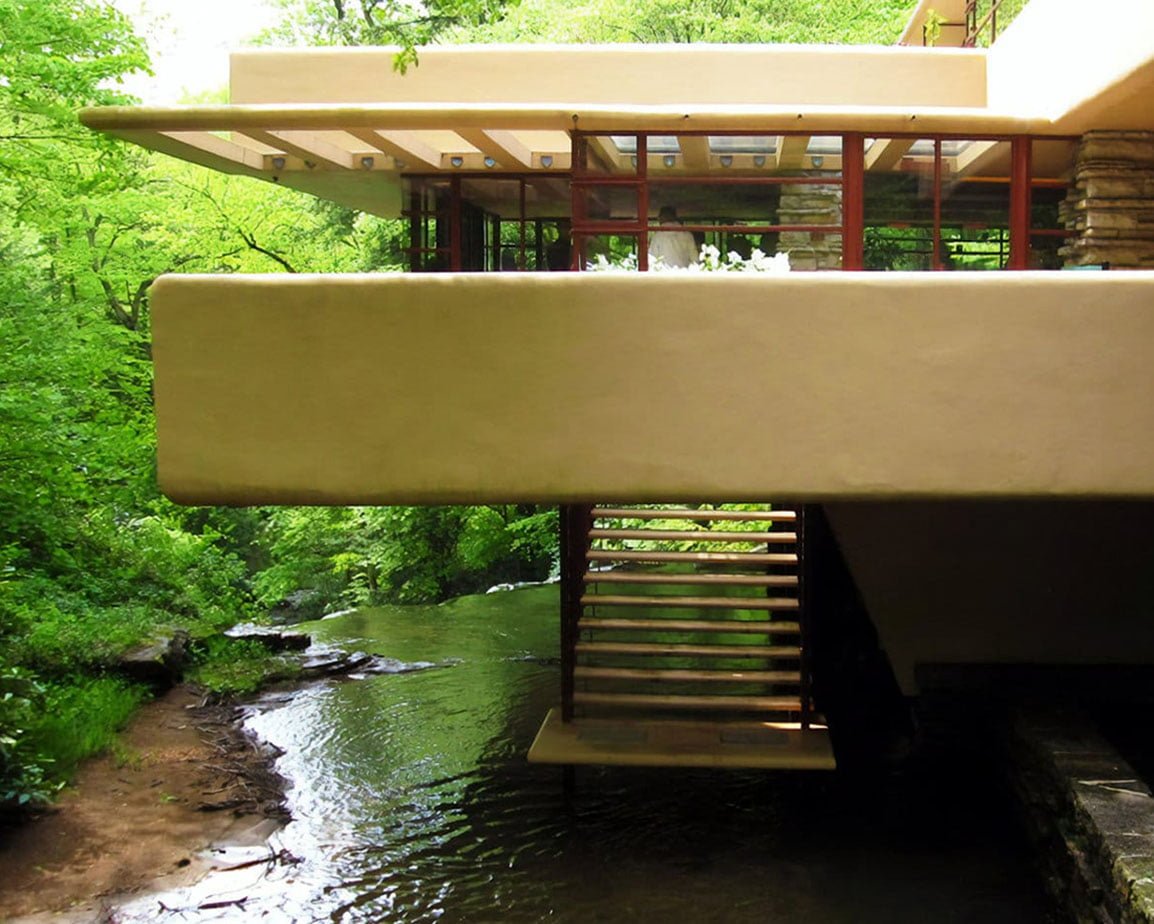 The Simple Pleasures of Reconnecting with Nature
A home needs to provide shelter as a matter of survival. In order to gain this essential shelter, however, we've sacrificed a great many simple experiences with nature, sometimes unnecessarily. It's these experiences that so many of my clients ask for when they're talking about their perfect home.
At Kariouk Architects, we strive to achieve these nuances between the interior and exterior. We do so in visual and non-visual ways, and the results create simple pleasures that my clients enjoy for a lifetime.