Kariouk Architects is unique in that we provide a full spectrum of architectural services in one turn-key package. From advising you on your land purchase to designing your home to helping you choose and source finishes, we provide enormous value for one simple fee.
Here is an overview of what our service package contains:
Site Selection
While most of our clients have already purchased their plot of land, we would be happy to help you choose the right site for your new home.
Some of our clients are delighted to discover that we relish working with sites that present challenges like steep terrain. Sites like these can not only contribute dramatic beauty to your home, they're also typically less costly to purchase than the "ideal" flat stretches of land.
Feasibility Studies and Analyses
It's important to understand what is possible, both legally and technically, before we start designing. This is essential whether we're working with a cottage property of multiple acres, or a tight lot within Ottawa.
No matter where the lot is, we will need to request a survey so we carry out our analyses. For example, a zoning analysis will provide us with knowledge of any official constraints on elements like size, height and placement of the building. We will also want to find out if there are any conservation authorities that have any kind of jurisdiction over the area, and what they will require.
Understanding your property will help us find those one-of-a-kind design opportunities for your new home.
Design Development
with Multiple Iterations
Kariouk Architects provides many design iterations, as opposed to other firms who may provide just one or two. Each iteration is complete with plans and physical study models.
Our design iterations are not "either/or" choices. Each one deliberately shows very different possibilities, stimulates discussion, and uncovers any requirements that may not have been included in the initial wish list.
A Better Sense of the Final Product
Nothing gives our clients a better sense of the space and the play of light between the multiple design iterations we develop than our use of physical models. Of course, our office relies heavily on sophisticated software to create digital 3D models and video walkthroughs as well. But the physical models allow our clients to fully enter into a dialogue with us about the home in which they will live.
We encourage our clients to handle and even "play" with the models; most can be opened up like a dollhouse to provide a better view. As we hone in on the perfect design, the models become more complex and start to show a sense of materiality.
For us this is a standard design service; in almost any other office, if they make physical models at all there will be an additional charge. In our three decades of experience, we've learned that no tool is more useful to our clients than the physical models.
Ensuring Full Value
One of our main responsibilities is to use your budget wisely and to its best effect. We do this by using our knowledge of the construction industry and construction industry supply chains, and by recommending strategic choices.
Designing for long term life changes as well as for your present requirements is an additional way that we provide value. This helps you avoid moving every five years, as most North Americans do on average, because most homes don't meet our changing needs as we go through life.
We also ensure that your home is the right size for your personal and budgetary goals: we design every space so that it is beautifully lit and has seamless flow, and feels larger than its actual square footage. Fostering effective social choreography amongst family members and improving your quality of life are also key considerations.
Materials and Finishes
Another service that's unique to the Kariouk team is help with selecting all the materials and finishes for both the interior and exterior of your home — right down to the tile and drawer pulls. These will be added to the contract document to ensure that both you and your contractor understand the requirements (more on this below). Some of our clients also ask for our help with choosing new furniture.
Navigating Official Approval Processes
Every project will necessitate building permits, but many projects (especially within city limits) can also include applying for zoning variances. Kariouk Architects will use our experience with the planning department system to help move these processes along as expediently as possible.
Coordinating Consultants
Depending on the needs of your project, we will need to work with various engineers, surveyors and possibly other consultants as well. Kariouk Architects can help select and work with consultants as needed to ensure that your project is a success.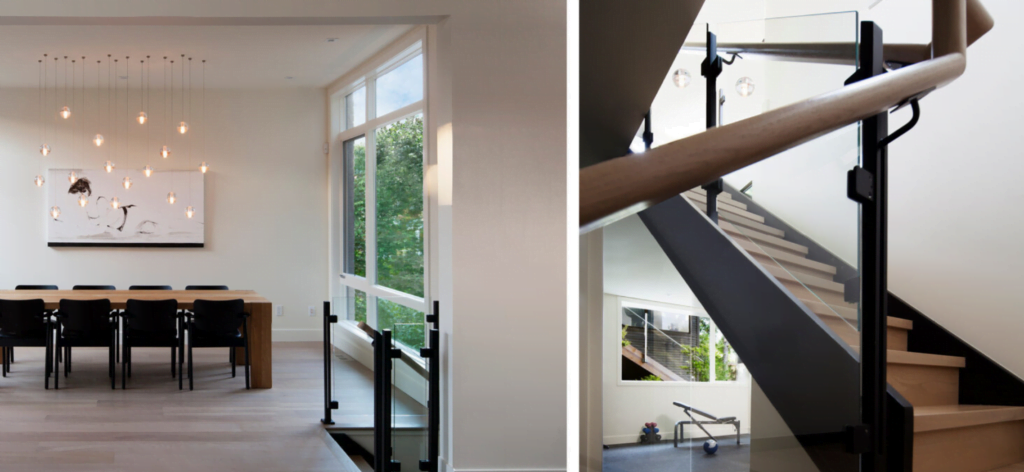 Preparing Contract Documents
When you hire a contractor to build the home we've designed, the design files (what the profession calls the contract documents) provide protection against substitutions and lower quality construction methods.
Kariouk Architects provides comprehensive and precise contract documents. There are tens of thousands of parts to a home, and our documents ensure that the contractor has a complete roadmap of how these parts need to come together in terms of construction quality and in terms of aesthetic.
Because we've helped you select all the materials and finishes, both you and your contractor have absolute transparency on the exact requirements for the build.
These documents ensure that you don't have to navigate the minefield of contractor relationships – our expertise ensures you get the right solution.
Contractor Selection
Because we need to retain our role as your advocate without risk of conflict of interest, our services do not include the construction of your home.
We can, however, help you select a general contractor for your build. We can either help you evaluate any contractors that you are considering or we can refer contractors that our clients have worked with successfully on past projects.
Field Reviews and Reporting
Our team, including our principal, conducts frequent field reviews of the build while the construction is in progress. This will include walkthroughs and discussions with the tradespeople and contractors. Once the framing stage is underway, we invite our clients to participate in the reviews every few weeks. As we get closer to the final stages, we conduct regular inspections with our clients to see and comment upon cabinetry, flooring, tiling and other finishes.
While some contractors have earned our trust with excellent work in the past, in construction it is important to approach all work with fresh eyes because the pool of subcontractors changes all the time.
Creating a Home That Is Built to Last
Kariouk Architects takes this comprehensive approach to architectural services because we appreciate that for most of us, our homes are the biggest financial investment we will ever make.
But they're also a profoundly emotional investment. Something this special is only done once, and it can be one of the most important journeys we undertake in our lives.