but also for partners and the kids
Many projects at Kariouk Architects begin with clients showing us photos of architecture, often interiors, that help illustrate what materials and spatial characteristics inspire them. Inevitably, these are images that have been scrubbed clean of real, messy, day-to-day life. If there's a child in the photo at all, she's wearing an immaculate dress and is quietly absorbed in some photogenic activity, folding a square of origami paper or arranging a trio of colour coordinated blocks. If there's a dog in the picture, it's a pristine border collie that's never chewed the baseboards, drooled on the sofa, or left a trail of muddy pawprints down the hallway.
Outside the camera frame, life is not so tidy, and it's a mark of exceptional design that it looks good, not just in the immediate "after" photos, but over years and decades.
Great design starts with understanding your household's pragmatic needs and challenges—including those presented by any four-legged family members—in addition to your aesthetic tastes; once we understand your functional design needs, we create spaces that are beautiful as well.
As dog lovers ourselves, we know the joy (and mess) they bring to our lives. Dogs have a lot going for them—loyalty, open-heartedness, goofy grins, and infinite, slobbery enthusiasm—but cleanliness is not one of their strong points. While at Kariouk Architects our design process is always about creative responses to the specific needs and contexts of our unique clients, there are certain categories of pet needs that we often confront. Here we've compiled a few examples:
MUDDY FEET
A washing station immediately at the front door for your dog's feet (and your boots) can be elegant and discrete—it by no means has to resemble a bathroom.
At Echo House, the rich panelling of the living area extends to the de-facto mudroom. A heavy-gauge metal grille (narrowly spaced to be paw-friendly) sits above a drain and is co-planar with the wood flooring.
In the Stacey-Turley Residence, the clients wanted a more utilitarian entrance for the kids and their dog that was separate from the formal entryway. It's also linked directly to the plant shed outside so that it serves as a wash station after gardening.
The Ottawa Loft's entry features a custom-stained oak grille that is set within a concrete border. There is also a custom red plaster wall with a hand-held shower hose that is sealed with the same varnish used on wooden boats.
DRINKING PROBLEMS
While our dogs' food tends to be dry and easily contained, drinking water is another story.
In the Redeveloper Apartment, the solution to a very large dog's extremely slobbery drinking style was a snazzy (Japanese) urinal, a product already engineered to minimize splashing. The faucet releases water when the nozzle is pushed down and can be set to a very slow trickle. In this case, the height needed for the pooch to drink happened to match the customary height of urinals, but of course, the position can be set as needed.
WALL SURFACES
While dogs tend to wreak the most havoc on our floors, wall surfaces can also get soiled when Fido leans and rests against them.
In the Redeveloper Apartment, this issue was addressed by using hard laminate surfaces on all cabinetry, but in order to maintain the internal "walls" such as those of the elliptical closets, rather than having a painted surface, we designed steel frames over which is stretched a washable fabric secured with Velcro, which can be easily removed and cleaned.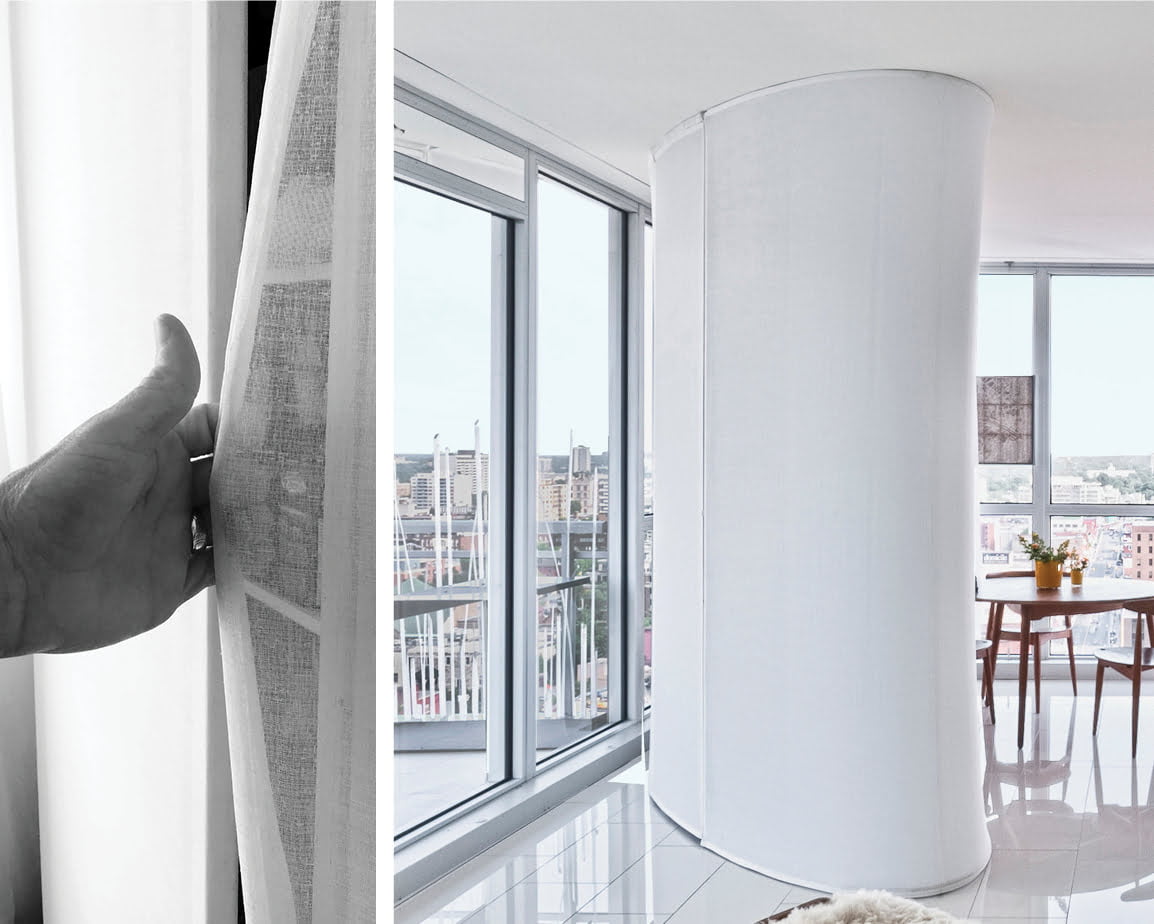 The grass isn't always greener on the other side
Dogs and cats are prone to jumping fences, which is a nuisance for neighbours, but when the "fence" is the railing of a high-rise balcony, such as in the Redeveloper Apartment, angry neighbours are the least of our concern.
The perimeter of the balcony is lined with thin acrylic rods that sway and clatter when brushed by the resident canine, making him wary of the edge and preventing him from standing on his hind legs and looking over. By inserting these rods into custom, stainless steel light boxes, the clear rods also become a fibre optic art piece.