"Custom" can mean a lot of things in home design. For some architects, it means adapting a signature look or style to the needs and tastes of particular clients—a sort of car buying approach in which customers select a base model and then tweak its details. At Kariouk Architects, when we say we build custom homes, we really mean it. In our office, "custom" means unique and personal, and "design" means design from scratch. We don't offer a product catalogue but rather a rich process of discovery in which the soul of a project emerges in continuous dialogue with our clients.
So, what does that have to do with physical models?
More than any other tool, physical architectural models allow our clients to be fully involved in the design of their home. Every architect uses digital representations in the development of a design, and those tools certainly have their place: digital models are fast and accurate, they're easy to change, and they help us resolve technical-coordination requirements and create plans. But there's nothing like a physical model to give immediacy and reality to a new concept—to give a complete and instant understanding of an original design. No matter how detailed or photorealistic a digital rendering, no matter how many 3D angles it's viewed from, digital representations alone will never allow us to fully grasp the look and organization of a space or to share in those spatial explorations with others.
DESIGN EVOLUTION
In our first client meeting to discuss rough design concepts, the
ideas we present are already the result of numerous studies involving physical models. Even at this initial meeting, we leave clients with not only schematic plans but also physical models of each proposed design to help them envision the spaces we are proposing. After a few meetings, the design has evolved enough that the initial model is obsolete and we start a series of new models; this continues until construction, with each successive model becoming more refined not just in its spatial organization but also in its materiality, colour, and even furnishings. Especially in the early stages of prototyping, these models are anything but precious items—they're made from simple
materials and meant to act as rough, three-dimensional sketches to test ideas—but they're a key bridge to understanding the material presence of a building, and thus indispensable in allowing our clients to see and share in its unfolding. While our design software allows us to study daylighting and sun angles, for example, a physical model gives an immediate, tactile understanding of the play of light in a developing space. It gives our clients an opportunity to take control of their project and its physical development: they get to hold their evolving project in their hands, to see it from every possible angle, and to become involved and experiment with design considerations that would otherwise remain inaccessible.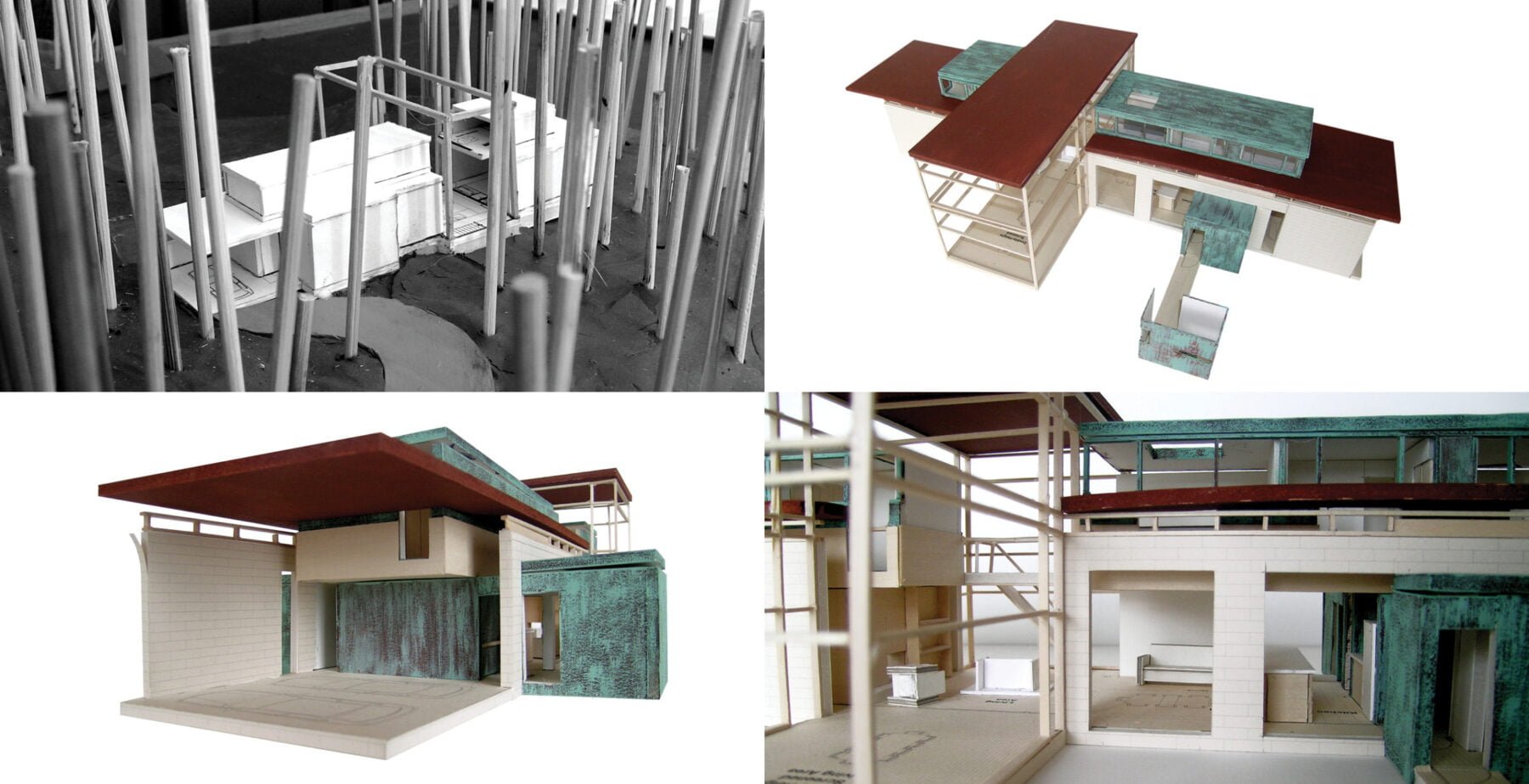 ARCHITECTURAL COMMUNICATION
That's our design rationale behind making physical models, but the use of these models is also critical to instilling financial confidence and responsibility. Drawings and computer models are abstract and therefore vulnerable to interpretation and ambiguity; physical models are tangible and thus can't be misunderstood. Construction is, of course, extremely expensive, and for most of our clients, their new home represents the single largest investment they'll make in their life. It's crucial that we're all on the same page in every detail of the project, from interior spatial organization to external siting to materials used, before construction begins.
Likewise, in Ottawa, Ontario for example, because so much of our work there involves parcels that are small and would otherwise be hindered by current zoning regulations, we often apply for municipal "variances," and in that legal process, nothing speaks more convincingly in support of our clients' building request than the physical model. The evolution of physical models in the course of a Kariouk project is thus the ultimate tool of architectural communication that allows perfect, always-productive dialogue with clients and other parties involved in construction.