The exhibition takes place July 16, 2022–May 21, 2023. More Information on the SFMOMA Site >
(a)way station: the Architectural Spaces of Migration will be exhibited at the San Francisco Museum of Modern Art (SFMOMA). Created by Paul Kariouk and Mabel O. Wilson, the project is even more relevant today than when it was constructed in 1999, because the number of people who have been forced to leave their homes has more than doubled.
"Home" is a powerful idea. Our homes provide not only shelter, but also become an extension of our identities. For people fleeing conflict, persecution, or poverty, life becomes a series of temporary way stations between places of despair or danger, and what they hope will be a place of safety and prosperity.
(a)way station engages people's imaginations and memories, helping them get a sense of what it's like to compress an entire family home into something that can be easily carried. Unlike the temporary transition of a vacation, this is an experience of being uprooted on a deeper level — something many of us would consider disturbing or even traumatic.
We know how well-designed architecture can make us feel. We've all walked into beautiful museums, art galleries, libraries or even homes that have inspired and uplifted us. (a)way station asks us to consider the confinement and disconnectedness felt by refugees and migrants who occupy cramped, temporary spaces that they cannot call their own.
Something as small as a refugee shelter or as modest as low-income housing is still architecture. But like 99% of the built environment, these spaces don't get captured by top photographers and displayed in beautiful magazines. (a)way station surfaces these unsung spaces, and helps us experience the poignancy of undervalued things that become important when they're left behind.
The Rising Tide of Forced Migration
Both of (a)way station's creators come from families who have had a history of migration. Wilson's grandparents moved from the American South, where there was no opportunity for African Americans, to Chicago. Kariouk's family has relocated in every generation, often because of war.
More reasons for displacement have arisen in recent years. Added to the vast number of people fleeing poverty and war are those forced to leave their homes because of the direct and indirect impacts of climate change, as farms and cities become unlivable.
"When we began the (a)way station in 2000, the United Nations High Commissioner for Refugees (UNHCR) estimated that about 38 million people around the world had been forcibly displaced. Today that number tops 82.4 million people," says co-creator Mabel O. Wilson.
"It was important for us as we worked to include those who may have moved due to economic pressures such as job loss or the affordability of a particular region. These migrants have to be housed somewhere by someone — an NGO, government, or private entity. In total these movements have had a great impact on communities and cities around the globe as neighborhoods absorb waves of migrants who may be fleeing conflict or merely in need of affordable housing."
This rising tide is part of the reason SFMOMA has decided to bring the piece to its exhibition floor.
The project has renewed importance not only because of the timeliness of its subject matter. The multitude of forms that the piece can take echoes migrant experiences in many ways, helping us empathize on many levels instead of objectifying migrants.
"When we were planning the work, we didn't want slick boards with shocking photographs," says Kariouk. "We knew the project had to have a tactile quality. We wanted to use objects that people could identify with and interact with in very unexpected ways. It also had to bring in a sense of architectural and human scale, as well as an enigmatic quality."
Experiencing the Installation
In form, (a)way station is a movable, reconfigurable multi-media piece that can be reshaped depending on the space available in a particular exhibition area. The installation consists of up to 15 towers in which domestic objects are suspended and illuminated. For every new city in which the piece was exhibited, co-creators Kariouk and Wilson recorded narratives from migrants who had moved to that area. These recordings are played in the exhibition space, and people can hear these first-hand stories as they drift amongst the towers and absorb the visuals.
Each tower is made of dozens of layers of plywood interspersed with acrylic sheets that allow light to escape. Objects like phones, furniture, and clothing were cast by the artists in resin blocks, then sliced up and installed in the towers. In this way, very banal and familiar objects become unfamiliar and strangely iconic, echoing the way that our memories make ordinary objects precious.
"A particular table might not be special in and of itself, but if that's where you ate breakfast every morning with your grandmother, it becomes special when you think about that experience in later years," says Kariouk.
At each location, some towers are exhibited and others remain in storage, as if to remind us that when you flee your home, some things always get left behind. Certainly, people running for their lives can't bring things like desks and curtains — objects that people often take for granted when they're in stable situations.
Each tower has a 2' x 2' base, and if the towers are pushed together the footprint of the piece (in one configuration) is 6' x 10'. This is about the amount of space that an entire family might occupy in a refugee shelter.
Each tower has a number that corresponds to a grid laid out on the floor. But all of the towers can't always be placed in the intended location because of the limitations of each individual exhibition space — again, echoing how our memories offset real experiences.
The piece also collects mementoes of itself: at each exhibition location, notes about the showing have been inserted into trays in the towers that can be opened.
Origin and History
Wilson and Kariouk met while doing their undergraduate degrees in architecture at the University of Virginia, and continued their friendship during the pursuit of their masters degrees at Columbia University. While trying to start their own practices, they collaborated on a number of projects for competitions, and started to apply for funding from granting agencies. (It's very difficult to start an architectural practice in New York, where most people live in apartment buildings, which are not design projects usually trusted to recent grads.)
Right: (a)way station at Storefront for Art and Architecture in Manhattan in 2000.
They started thinking about this exhibit in 1998, when they obtained funding from some small grants to do a project talking about the migrant experience. (a)way station was first shown in 1999 at Manhattan's Storefront gallery. Known fully as Storefront for Art and Architecture, it is still one of the most progressive and important galleries for art and architecture in North America. Their experimental and socially minded exhibits are typically by young and/or unknown thinkers.
(a)way station was also exhibited at Yale and at the Cooper Hewitt Smithsonian Design Museum in New York City before it was acquired by SFMOMA in 2004.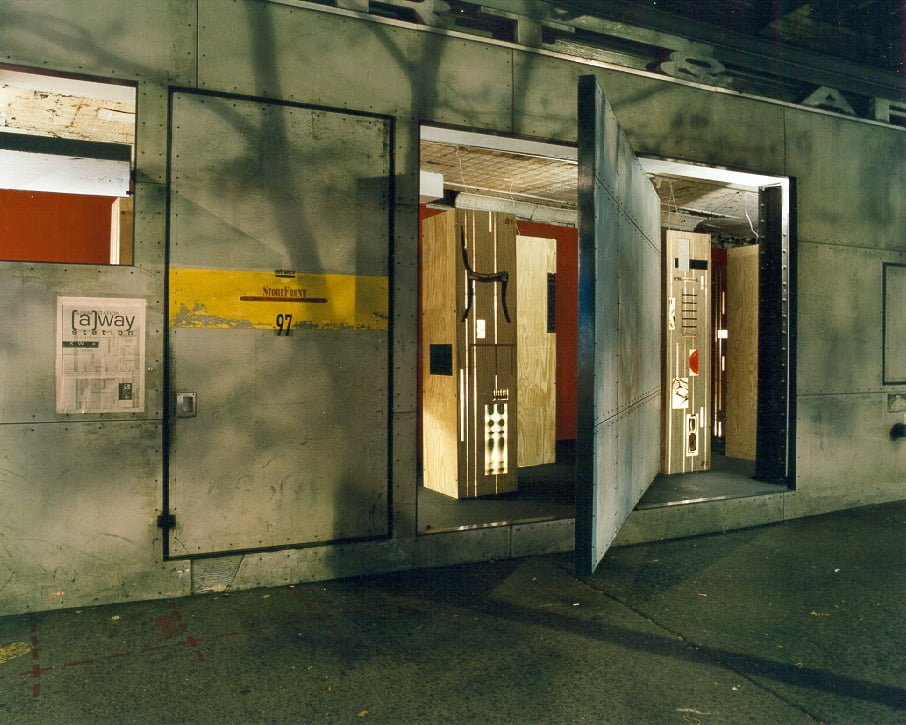 Funding
(a)way station was made possible by funding from:
the New York State Council on the Arts (NYSCA)
the LEF Foundation
the Graham Foundation for Advanced Studies in the Arts
the University of Florida
California College of Arts and Crafts