Imagine that you had to use all of your strength to lift your foot onto a stair, or to bend down and pick up something you've dropped. Imagine that you had to struggle to see the vegetables you're trying to chop for dinner.
When we're young or early middle-aged adults, it can be hard to visualise a time when our mobility, vision, and hearing become impaired. But the window of time in which we have full mobility can be as little as 30-40 years, between childhood and our late forties (when our bodies start to lose flexibility and most of us start to need glasses).
Accessibility is an issue that affects seniors, anyone who becomes injured or is recovering from surgery, people of larger size, pregnant women, and parents who often must carry small children or hold the hands of toddlers while walking around the home.
In light of the fact that we all become mobility-impaired at some point, it's incongruous that our homes are almost never designed to work for those with reduced mobility.
A large part of the problem comes from stairs, which are the least expensive way to move people from one floor to another, but are a poor architectural solution compared with ramps. Ramps are more beautiful, equalize everyone, and invite the able-bodied to slow down and enjoy their journey. While they do take up more room, ramps also alleviate the tremendous anxiety that the mobility-impaired feel while trying to negotiate stairs — if it's even an option.
Right: Frank Gehry's entry ramp for his renovations to the Art Gallery of Ontario.
The tragic irony of the situation is that it really isn't that difficult to design a home that works for the mobility impaired. Sadly, typical property-developer built homes are built to maximize profit, not adapt to the needs of its owners.
Building a custom home is a once-in-a-lifetime opportunity to think ahead and plan a more accessible home. After all, if you're investing the time and energy into planning a custom home, it would be a shame to not be able to stay in it for the rest of your life. Far too many people are forced to leave their homes, or do expensive retrofits while they're trying to live on a fixed income.
If you're building a custom home, there is a unique opportunity to work accessibility considerations into your design. Doing so can not only save money on future renovations, it can save the emotional cost of leaving a home that you love. If you ever do decide to sell, having an accessible home can add value in a market that's full of retiring Baby Boomers and their ageing children.
What follows is a list of approaches and features that we discuss with our clients when designing their home, with the goal of making it universally accessible.
Mobility
Consideration: strength and balance both diminish as we age, and hips and knee joints can become painful when ascending and descending. ​​
If the home will be multi-storey, put all of the essential rooms on one floor. This includes the master bedroom, at least one bathroom, the kitchen and the laundry room. See how we made this work in the DASH Home >
Ensure that all doorways are wide enough to accommodate a wheelchair, walker or scooter, and that rooms are large enough for a mobility device user to turn around once they are furnished. (A home designed for mobility assistive device users will work for everyone; the only difference a user with full mobility will notice is a pleasant increase in space.)
As we do with many of the homes we design, we plan the structure so that a residential elevator can be easily added in a logical location. This is much more affordable than most people think, as it's mostly about making the provisions so one could be put in later. This is about the cost of a suite of major kitchen appliances.
Be sure to also design the kitchen so that it has room for someone in a wheelchair, walker or scooter to get around, especially if there is an island.
The front steps should be built to easily convert to a ramp.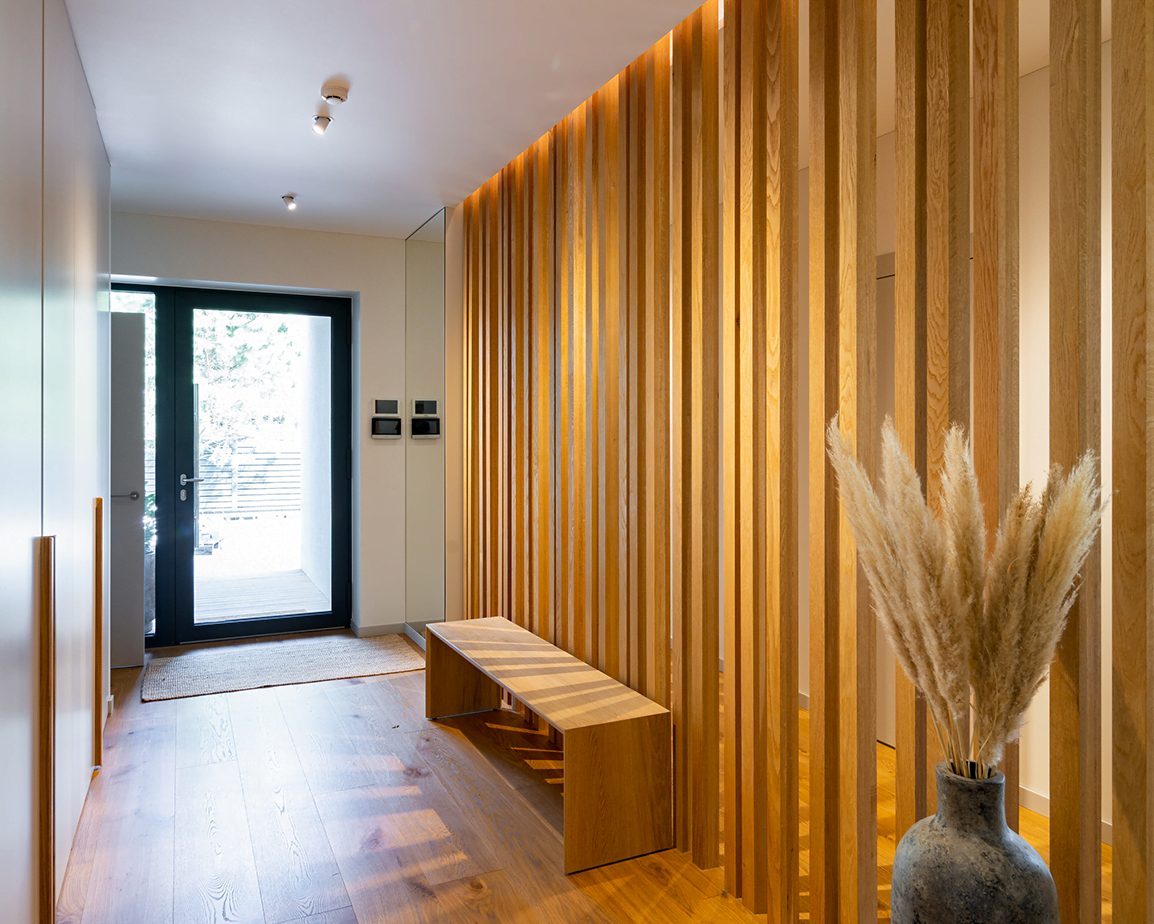 Safety
Consideration: for someone in their 70s or 80s, a trip and fall can mean broken bones and lengthy hospital stays. According to the 2014 Public Health Agency of Canada report, between 20% and 30% of seniors fall each year. Falls are the primary cause of injury-related hospitalizations for seniors in Canada who are 65 or older.
Ensure that surfaces have good traction, including when wet. This is especially important in bathrooms (which have so many inherent safety issues that we discuss them in detail below).
For any stairways, add a second handrail so there is one on each side. If someone has compromised mobility on one side (for example, if they've had surgery or a stroke) this will make it easier for them to use the side that's strongest.
Handrails should be round and have a diameter of a couple of inches so users can grip them well and use the full strength of their hands to keep themselves secure.
Adding lighting beside courses of stairs will ensure that there is enough contrast to easily see the edge of each stair for the visually impaired.
Whenever possible, avoid changes in level from room to room. If changing levels is unavoidable, make sure that there is also a change in colour and contrast so that it's easy to tell where the transition takes place. Nearby walls should be built to take the addition of a handrail, so that seniors can steady themselves while they negotiate the step.
Avoid high-pile or thickly padded carpeting, as this can make surfaces more difficult for people who struggle to maintain their balance.
The front vestibule should have room for a bench or chair so that seniors can safely put on shoes or boots.
Bathrooms
Consideration: one of the most dangerous places in the home for people of any age is the bathroom, but for seniors, the risks of falling grow larger. According to the National Institute on Ageing (NIA) in the United States, over 80% of falls occur in the bathroom.
For seniors of average or above height, install a taller toilet that is between 17 and 19 inches (43 to 48 cm) from floor to rim. For seniors it will be less painful to raise and lower themselves, but their feet can still be flat on the ground during use. Leave room around the toilet for the future installation of freestanding handrails should they be needed.
A shower with a curbless entry will mean there's nothing to climb over, which reduces the risk of falling.
Ensure that the shower entry is wide enough for someone with a walker or wheelchair to enter. If you never end up needing a wheelchair, then you'll still have a nice amount of space than in the bathroom of a developer-built home, which typically gives you the minimum allowed by code.
The shower itself should have a bench (or room for one to be built at a later time). A built-in bench is more stable than one that is a separate piece of furniture.
Install a handheld shower wand that can be easily used while someone is sitting on the bench or in a wheelchair. This will ensure that seniors can continue to bathe themselves safely even when their coordination diminishes.
All showers should have at least one grab bar with a textured grip for traction.
Installing a thermostatic shower control (which allows you to pre-set the temperature before you climb in) and anti-scald devices can help prevent burns.
Visibility
Consideration: as we age, it becomes more difficult to see clearly, especially when light levels are low. Depth perception or extra vulnerability to glare also become problems for some.
Ensure there are plenty of light fixtures, especially for work areas like kitchen countertops.
LED lighting not only saves on energy, it doesn't require changing as often.
Use light-coloured finishes in kitchens and bathrooms.
Ensure that walls and floors use contrasting colours or tones so that it becomes easier to tell where one begins and the other ends.
Choose matte versus high-gloss surfaces to avoid glare, and ensure that blinds or curtains can be closed to control overly intense sunlight.
Ease of Use
Consideration: minor changes can make a big difference to everyday living.
Instead of round door knobs, use lever door handles that require less coordination to operate.
For light switches, use larger rocker switches instead of smaller toggle switches.
Ensure that light switches aren't installed too high from the ground. While many authorities recommend 48 inches (122 cm) from the ground, this height can be difficult for those in a wheelchair, walker or scooter. A height of 40 inches (102 cm) is more accessible for those who need mobility assistance (as well as for the very young).
Opt for large drawers instead of lower cabinets in the kitchen. Ensure that they have heavy duty slides that can take extra weight, as some seniors may lean on them to maintain balance.
Closed D-shaped drawer pulls are easier for arthritic hands to use than small knobs.
If you're installing upper cabinets, pull-down shelves will make the contents accessible without the need to stand on anything.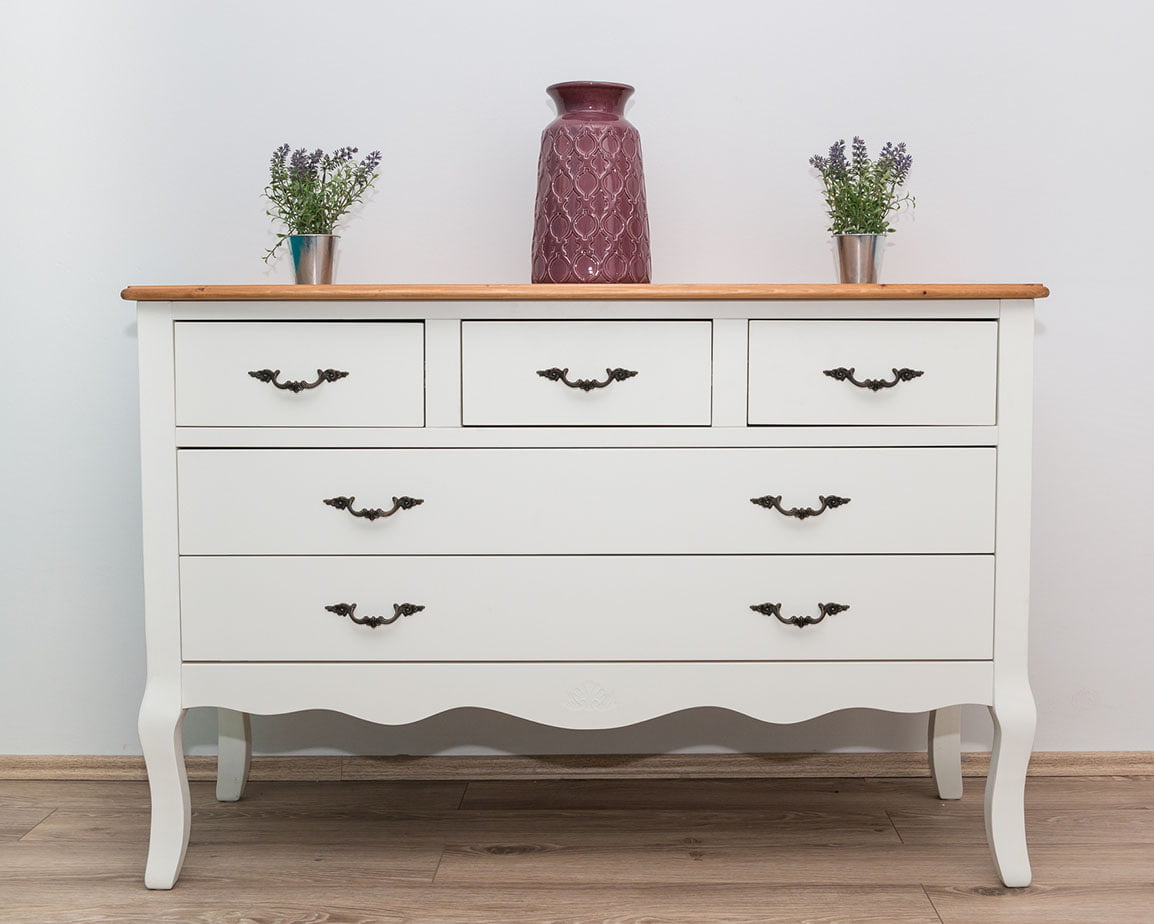 Caring for Caretakers
There may come a time when a senior or mobility-impaired person really can't cope on their own. Hiring a live-in caretaker could become a very attractive alternative to living in a group home.
Being proactive with the design can make hiring a live-in caretaker a viable option. When planning the layout of the home, design a space that can become a caregiver's suite one day. It should have its own bathroom, bedroom, and sitting area, as well as room for a desk.
It should be situated so that the caretaker can easily interact with the home owners or get some privacy. Spaces like this can begin life as childrens' bedrooms or a guest suite.
Home Designs that Stand the Test of Time
Many of these details may seem like minutia, but they can make a big difference if you're 80 years old.
It often costs the same (and sometimes much less) to design a home for ageing in place from the beginning — it's all about being thoughtful during the design phase.
At Kariouk Architects, we often talk about giving our clients their perfect "forever home". For us, houses are like living entities that help to take care of you, becoming an active partner in ageing gracefully, with full independence and dignity.